Prom Flowers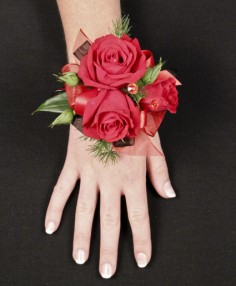 Can't find what you're looking for? Let us create a custom prom corsage just for you or your date. Simply call or stop by THE WILD FLOWER with a photo or description and we will take care of the rest. Our beautiful prom corsages are design to make any girl feel like a princess as she dances the night away.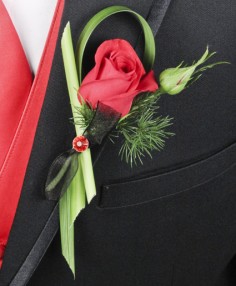 When it comes to prom, a guy can't go without a boutonniere to match his girl's corsage. The flower-on-the-coat-pocket is a tradition for classy men that stems back generations. Just because it's a tradition, doesn't mean your boutonniere doesn't have to be stylish. Choose from a wide range of styles, colors and flowers when choosing a boutonniere from THE WILD FLOWER.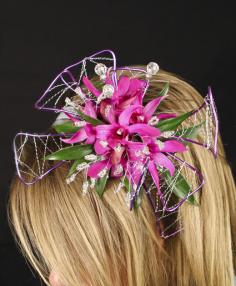 Looking for the perfect prom accessory? Let THE WILD FLOWER create a custom floral headpiece to match your prom corsage! From classical elegance to playful and fun, we do it all!
Frequently Asked Questions about Prom Flower Corsages and Boutonnieres - Answered!
What is the difference between a corsage and a boutonniere?
The simple answer is that a corsage is typically worn by the woman on her left chest(pin-on) or wrist(wristlet) while the boutonniere is worn by the man on his left lapel. There are several different styles of corsages and boutonnieres which can be customized to match the dress color.
Do Corsages and Boutonnieres Have to Match?
Boutonnieres and corsages for a wedding should match the bouquets of the bridal party. In a wedding, the bride, bridesmaids, and maid or matron of honor typically carry bouquets, while boutonnieres are worn by the groom, best man, and groomsmen as well as the fathers and grandfathers of the bride and groom; corsages are worn by their mothers and grandmothers. All of these flowers should incorporate similar themes, colors, or blooms for a cohesive look.
Is the guy supposed to buy both the corsage and boutonniere for prom?
Traditionally, the corsage is purchased by the guy while the boutonniere is bought by his date. It is common to have the boutonniere and corsage matching and this color scheme is determined by the woman's dress color. Accessories and upgrades are available to make your boutonniere and corsage more unique.
How do I get a corsage for prom?
The process is fast and easy!
First, find out your date's dress color.
Second, get the shade of the dress color such as light pink, hot pink or dark pink.
Third, browse our selection of exclusive, custom corsage designs and checkout online.
It will be ready for store pick up at your agreed time!
I need a corsage or boutonniere near me. Can you help?
Of course! Our corsages and boutonnieres are guaranteed to be ready when you need them.
Where do you put the corsage on a girl?
There are 2 types of corsages; wristlet and pin-on. A wristlet corsage will arrive on a bracelet that can is typically worn on the left wrist. If she is left handed, it can be worn on the right wrist. The bracelets are typically elastic but there are upgraded versions that could be on an actual rhinestone bracelet or other type of jewelry. A pin-in corsage is also worn on the left. The florist will include the proper pins to attach the corsage to the dress. This should be done towards the shoudler in the lapel area. If the dress is strapless, we recommend going with a wristlet corsage.
Where can I buy a Corsage and Boutonniere for Prom?
Whether you need to buy a corsage or boutonniere for a prom, homecoming, or wedding, you want them to be expertly designed using the freshest flowers. Corsages and boutonnieres can be bought in flower shops.
How do I keep corsages and boutonnieres fresh for Prom?
Prom flowers will do best in cooler temperatures.
Keeping your boutonniere and corsage in the refrigerator until you are ready to wear them.
Do not put them in the freezer as the flowers will freeze.
Garages may also be too cold overnight.
Keep them out of direct sunlight.
How long do boutonnieres and corsages last?
Boutonnieres and corsages made with fresh flowers typically hold up for one evening of use. Care should be taken to keep them safe since excessive contact will lead to increased bruising.
How much do corsages and boutonnieres cost?
Corsage and boutonniere pricing varies. The cost of prom flowers depends on the flower varieties used, the number of stems and complexity of the design. A boutonniere can range from $8 to $20 while a corsage can be $20 to $40. Adding accents or upgrades can contribute to higher prices as well.